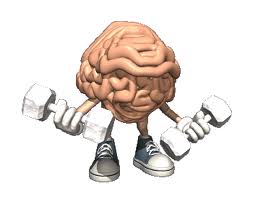 Okay, this really is a no brainer and it might seem like common sense … but I am going to go ahead with it anyway, because sometimes we forget to do the things that are in our best interest. Most times it is because we don't know WHY we should do them … so here are a couple of GREAT reasons why getting off the sofa and getting into some exercise could help you be a more dynamic and creative thinker.
The goal with Integrated Intelligence is to fine tune the 'Intelligence muscles' of the brain and body to balance and improve function so we can be more Creative, Innovative and Intuitive  … and I.I offers lots of ways to do that, but did you know that exercising our BODY is also a crucial way to improve brain function?
We all know (or at least have a vague memory) of how good it feels when we participate in regular and consistent exercise, the increased flow of oxygen and release of beneficial hormones and chemicals not only improves how we look in the long run, but also improves how we think, process information and handle stress. With as little as 20 minutes of daily exercise, which includes cardiovascular and /or high paced muscle training, our brains gain just as many benefits as our body does. And when our brains and hearts … are working at optimal levels … every aspect of our lives gains benefit.
Here's why…
When we exercise at a moderate or high level, our bodies break what is known as the 'blood-brain barrier'. It doesn't matter what type of exercise it is … anything that requires our heart rate to increase and  breathing to escalate, will do the trick. It can be jogging, yoga, hiking, cycling or even love making… (got your attention on that one didn't I?)